What women inspire the team at Advantage?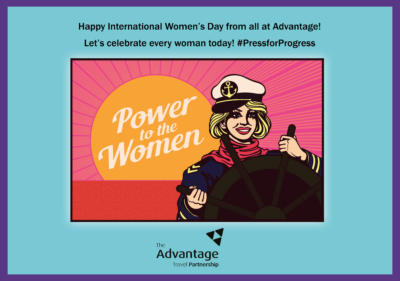 We asked the team at Advantage to share with us the woman who inspires them in 2018. From Michelle Obama, Maya Angelou to the singer Pink, and even someone's Mum we had some fantastic answers, and some great reasons. Here are some of best responses below...
Rosa Parks "She stood up for her identify. Proving that being of a different skin colour meant no one should be made to feel beneath anyone. She was willing to risk either a beating, imprisonment or death to prove this. "
Octavia Spencer (actress) "She is funny, strong and has played some great empowered female roles - The Help, Hidden Figures and The Shape of Water to name a few."
My Mum (Rosemary) "She has been there for me every day of my life and even now I am older she is still there for me every day. When I was young my dad was very ill and in a hospital for months, she managed to work, look after me and see him every day and stayed as strong as an ox!"
Martina Navratilova "Being a gay woman in sport and staunch supporter of LGBTQ people and rights Martina was never afraid to be who she really was at a time when it was difficult to be open about your sexuality. Times have changed and now life is easier but we must never forget how hard it was for the LGBTQ community only a few years ago."
The Queen At 91 not only does she look great but she works hard and is fully committed to her role. Love the fact she attended London Fashion Week for the first time recently. I hope I'm still going strong at her age!
My sister Emma "Whatever life throws at her she picks herself up, dusts herself off and gets on with it. Always with a smile on her face and always looking out for others."
Michelle Obama "Humble, caring, strong and confident lady. A lady who takes the time to listen to people. She's also has some good dance moves!" "Inspiring young girls; in public but also behind the scenes, off camera because she cares, not just to get the headlines"
Mamie Till "For her son's funeral in Chicago, Mamie Till insisted that the casket containing his body be left open, because, in her words, "I wanted the world to see what they did to my baby. An amazing inspiration."
Katty Kay, presenter BBC World News "I read this article back in October 2017 and it struck a chord with me. I shared it amongst a few of my girlfriends who struggle with confidence issues and hope it's helped them challenge themselves to take a step out of their comfort zone." 100 Women: Katty Kay on how the 'confidence gap' holds women back
Helena Rubinstein "Entrepreneur emigrated from Poland to Australia without money or the ability to speak English. She created one of the world's first cosmetic companies and became one of the world's richest women"
Asma Bajawa "Asma Bajawa started her work life in BA call centre and after successful career went on set up her own HR consultancy in Dubai a male-dominated culture."
Serena Williams "Able to perform at the highest level over 15 years winning 23 grand slam titles."
My Wife " 1. Kind/loving 2. Patient/Understanding, which is a marvel considering she puts up with me, :-). 3. Hard working 4. Modest 5. Good Mum – always puts our boys first."
Margaret Thatcher "For her vision, character, and impact on the UK and the world."
Pink "Never change speech!"
Maya Angelou "Incredible woman!"
Chaka Khan "Because she is every woman it's all in her..."
Ellen DeGeneres "Although some of the things she does are little corny I think she has a powerful message for all women and indeed men She has attitude and has worked really hard to achieve everything."
The suffragette movement "Finally women got to vote!"
Malala Yousafzai "Her compassion and view of the world at such a young age. She's been through such trauma and still manages to articulate it and inspire all with such grace and passion, she's so young!" "A young girl who stood up to the Taliban."
Happy International Women's Day from all at Advantage!
Let's celebrate every woman today! #PressforProgress