Join Advantage

We recognise the travel industry is constantly changing and businesses evolve to meet day-to-day operational challenges and consumer demands. This makes our role at The Advantage Travel Partnership a simple one: to bring to our members the best range of products and services with the best commerical terms, and, in doing so, we are able to support members' businesses from right across the travel spectrum.
We do not pigeonhole our members. This means whether your speciality is business or leisure travel, or both, you know we will be working hard to bring you exactly the right content for your business, with the best commercial terms in the industry. You will simply not find the range of products and services on offer anywhere else, all under one roof. It means every Advantage member has access to everything we do, which enables your business to be agile and flexible and to explore other travel sectors to evolve, diversify and grow.
We recoginse all businesses are different, which is why we have developed a range of different membership models, so you can select the one best suited to your business. We also offer the flexibility for members to switch between models, as we appreciate situations change and businesses evolve.
Our main aim is to ensure that our members operate successful and profitable businesses; and did you know….
Advantage is 100% owned by our members, with no private investors, meaning your future is in your hands.
We do not compete with members on the high street or online.
We have a board made up of elected Advantage members.
We are a transparent business with no hidden agendas, and just our members interests at heart.
We offer a full package of services including excellent marketing campaigns, great business support and competitive commercial terms.
By being part of a larger organisation, you'll be able to deliver better for your customers, whilst increasing your profitability.
To find out more about the different membership options we have available and the business solutions and support we offer please read our company prospectus.
View The Advantage Travel Partnership Prospectus
Membership options
| | |
| --- | --- |
| | With over 40 years experience in the travel industry our standard membership provides everything an established travel agency needs to operate a successful and profitable business. |
| | The core basis of the AMS scheme is to significantly reduce business costs and to take away the tiresome administration of running an agency enabling you to concentrate on building the profitability of the business. |
| | A flexible managed service homeworking solution. Perfect for both established homeworkers looking for less support but a higher share of their commission, and experienced travel agents considering starting their own business. |
All members have access to:

Our Values
In order to establish brilliant business relationships, eveyone in the organisation needs to share the same values - at Advantage, we have five simple values: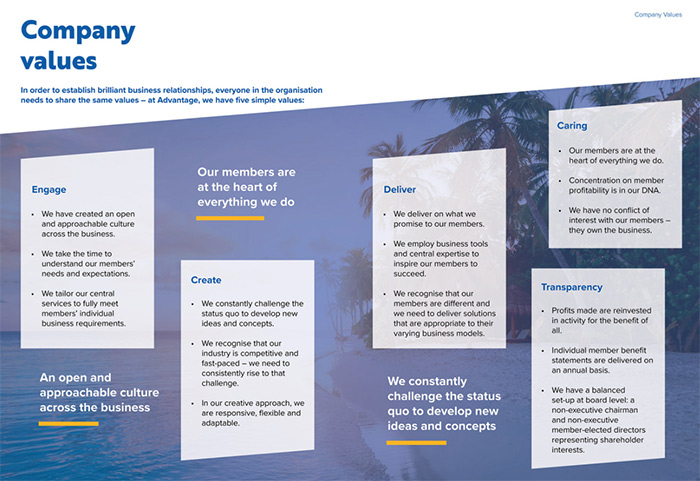 Contact Advantage
If you like the sound of our approach and feel that you could benefit by being treated as an equal partner then we would be delighted to hear from you and you can contact us by:
Call: 020 7324 3931