International Women's Day 2023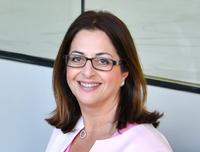 "On this year's International Women's Day, I want to celebrate all the incredible women in my personal and professional life who continue to inspire me every day.
The travel and tourism industry is filled with so many talented women and as a sector we have a duty to support these women in ensuring they reach their tru potential. Research shows women don't take as many risks, they talk themselves down and are less likely to speak up in meetings. The industry needs to be better at realising these differences and provide a safe and nurturing environment for women to thrive. This is the only way we will get more women into senior executive positions and sitting on the board of travel companies. We need to look at ways in which we can work collectively to achieve this.
At Advantage we share an enormous passion for what we do, and a large proportion of our membership are women. We know further progress is needed and together with our members we are working towards creating an environment that provides opportunities for everyone to flourish, whilst giving them the freedom and support they need to be their true selves at work.
It's important for me today to call out the cohort of dedicated and loyal women that help make Advantage the success is it today. Their tenacity and commitment know no bounds, and the passion, energy and compassion they show each other every day fills me with pride.
These women have also taken the time to celebrate those that influence them and have turned them into the people they are today. Meet some of the extraordinary women that inspire some of our staff":