Villa holidays with Advantage Holidays & Cruise
We are delighted to announce that we are now bringing you villa holidays across a range of beach destinations in Europe as well as Orlando and the Gulf Coast in Florida.
Through our new partnership with SPL Villas, we have expanded our product range to include over 1,500 villa rentals, suitable for party sizes up to 36 people.
Whether your customers are a family looking to relax and unwind in privacy, couples seeking a secluded luxury villa, or a group of friends planning a perfect getaway – we have villa holiday packages to suit every customer with a fixed deposit of £250pp.
This new product comes as a result of collaboration with members and complements our existing offering, with recent feedback identifying a need for ATOL-protected, Villa & Flight-inclusive packages.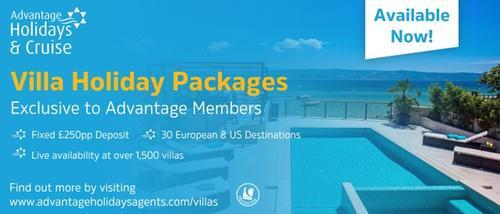 The Advantage Holidays & Cruise team- Finding the perfect villa holiday has never been easier.
Simply check availability on the SPL Villas website by visiting www.splvillas.com
Once you've found a villa(s) to suit your customers' needs either...
Why SPL Villas?
We have partnered with SPL Villas because of their wide range of carefully curated villas across Europe and the USA, offering exceptional value for money and flexibility, with durations from three nights upwards.
Destinations featured include Croatia, Cyprus, Greece, Italy, Portugal, Spain, Turkey, Florida and the Gulf Coast
Widest choice of accommodation at The Aphrodite Hills, Cyprus
For an upgraded experience, selected villas can also offer special touches such as wine tasting, chef service, cycle hire and much more
Named villas in Orlando which include resort taxes & security deposits
Fantastic launch incentive
For every Villa Holiday booking you make between 26 June and 31 August 2023, you will earn £50 in Love2shop!
No minimum spend applies
Booking incentives will be paid out at the end of the incentive period automatically
All taxes are covered
To support the launch, you can earn £50 per booking with our new Villa Holidays incentive!
It's never been easier to book a villa holiday with us so why not visit our Villa Holidays Hub to find out how.
We are looking forward to supporting you with your villa holiday bookings.