'Holidays are sooo 2022' Turn of Year Campaign
The Advantage Travel Partnership, the UK's largest travel agent consortium, has recognised how important this January and February – the traditional peak period – is to its members and has launched a multi-channel marketing campaign, 'Holidays are sooo 2022' to support travel agents during this time. With the ongoing changes to travel restrictions, Advantage believes there is an opportunity for its travel agent members to attract new customers as well as support existing ones, by demonstrating their expertise in navigating the current complexities around travelling overseas. Working closely with their suppliers and partners they have ensured members have the best offers and content to drive sales through this period, as well as provide assets that focus on the benefits of booking with a human travel agent.
The campaign will consist of both on- and offline activity with a big focus on aspirational content to help members engage customers and inspire them to book. This includes, customer magazines (print and digital), the largest point of sale pack that has ever been produced for an Advantage campaign, social media support, dedicated cruise content, ready to use blog/email content, digital assets and B2B activity such as 'How To Guides' and marketing tips.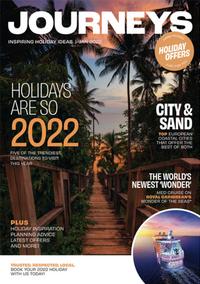 New 'Journeys' Customer Magazine
The new Journeys consumer magazine will provide readers with aspirational content and articles, including topics such as the best destinations to visit in 2022 and sustainable travel. Within the magazine there will be plenty of reminders about the benefits of booking with a human travel agent. Personalised printed copies of the magazine will be sent to over 150 member branches who have opted in to receive it and will be used to door drop and acquire new customers, mailed to existing customers to encourage to book, and will be available on the racks in-store.
In addition, a digital version will be available to all members, which will be emailed to customers on behalf of members who are part Advantage's direct marketing programme. Each of these will be personalised to the member, with the agencies' branding and call to action. Digital assets that can be used for both websites and on social media have also been created to specifically help promote the magazine to members' customers.
Point of Sale Pack
To encourage members to dress their stores for the January booking period, Advantage has created its largest ever point of sale pack, which contains a wide selection of banners covering different holiday types and destinations. These include a dedicated 'Why Book with Us' banner, showcasing the various benefits of booking with an independent travel agent, such as financial security and extensive travel knowledge. Advantage has also created a 'Part of Something Bigger' banner to demonstrate the consumer benefits of their local travel agent being a member of a larger consortium.
Advantage will be running a competition to encourage its travel agent members to dress their store for the turn of year booking period and members have been asked to submit photos of the store with the Point of Sale assets in windows and Journeys magazines on display. Members who take part in the competition can win a luxury food hamper to treat the staff in the store at the end of the peaks campaign.
Social Media Support
To ensure travel agent members can share their latest offers across their own social media channels, Advantage has created a wide range of banners suitable for Facebook, Twitter, and Instagram to help promote holiday types and destinations with the 'Holidays are sooo 2022' badge. What's more, the private members' Hot Offers Facebook group will provide a forum of different up-to-the-minute tactical offers from Advantage's supplier partners to put out to members. Members can then lift the relevant deals and share on their own social media feeds, enabling speed to market.
Advantage has also devised a selection of ready-made blogs for members to use across social media or email, covering a range of subjects to help members engage with customers during the January booking period, while also demonstrating their expertise. Topics include sustainable travel, why book with us, family holidays to Dubai and more.
Cruise Specific Content
With the comeback of cruising predicted in 2022 and beyond, a new issue of Advantage's successful 'Navigate' customer magazine, which focuses on what's hot for 2022 and 2023 in cruise holidays will be offered to members. Additional short-format cruise digital bookazines are also available which detail information about specific cruise lines and the types of cruises on offer which can be used. All of which are perfect to be shared across social media, email and web to drive traffic and generate cruise enquiries.
B2B
In order to support members and expand their knowledge, Advantage has curated a range of communications for travel agents focused on product knowledge, flexible policy updates and commercial terms to ensure that they are equipped with the necessary tools to answer questions and enquiries from customers as the travel landscape continues to evolve. In addition, email, videos, social media, and various updates will be added to the members Turn of Year extranet hub for members to access at any time.
A number of 'How To Guides' and marketing tips have been designed to help members build their own turn of year marketing campaign using all the assets that have been provided, plus any of their own. A launch video was shared with members on 17 December which included all the information they need to prepare for their peaks campaign, with updates from Advantage's Marketing, Commercial and Membership teams.
David Forder, head of marketing at Advantage commented, "We know how important this January and February booking period is to our members. With continued uncertainty around new variants and travel, the need to book with a trusted travel agent is clear, and we have pulled out all the stops to ensure all bases are covered for our leisure members, to help them generate enquiries and all-important bookings for 2022 and beyond. We know holiday pricing will remain fluid for the time being, and customers may be more spontaneous with their booking decisions, so have worked closely with our supplier partners to focus more on engaging content than offers, and we're hugely thankful to them for their substantial support to aid this campaign."