Beverley Travel in top spot at TTG Top 50 Awards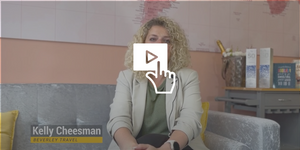 Advantage member Beverley Travel was recently named 2023's UK and Ireland's No. 1 Travel Agency at this year's TTG Top 50 ceremony. We were so thrilled that they had won and they deserve all the recognition they are getting. We caught up with one of the founder-directors, Kelly Cheesman, to find out how the news had sunk in and to hear about what celebrations they had lined up. Read what Kelly had to say and watch this video clip on the right with Kelly sharing what winning the award means to them.
How did it feel to win on the night?
It meant everything; we were completely overwhelmed and so proud of our team's achievements.
How did you celebrate?
We haven't had a chance yet! With all the Bank Holidays and it being busy at work (we've recently had our best-ever week in the history of Beverley Travel!), we haven't had a chance. We will celebrate with the team soon though. As soon as the awards were over, our feet were firmly back on the ground and we were focused on business as usual, looking after our key customers 24/7.
What made you enter TTG Top 50 in the first place?
Devilment really (I'm joking!); we entered last year and didn't get a response. We thought the team deserved to make it to the shortlist; that's the most we dreamed of!
Would you recommend other members put themselves forwards for awards like this?
Yes, 100%. Our profile was raised overnight!
It strengthened our relationships with current suppliers and new ones who have now been in touch and want to work with us. Ultimately, we believe all of this will lead to better offerings for our customers and will contribute to our business growth.
The agency only opened its doors in July 2020 at the height of the pandemic. Beverley Travel combines the expertise of consultants with decades of experience with the fresh ideas and energy of young apprentices from local schools and colleges, eager to carve out a future career in travel.
Well done to all of our members who were shortlisted and winners from this year's TTG Top 50 – and make sure you nominate yourselves for next year's ceremony!