Discovering Icon of The Seas, Royal Caribbean's Newest Ship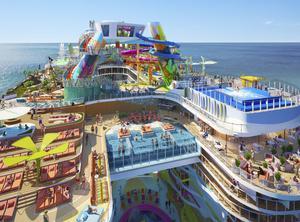 My favourite activity is travel, and I geek out when invited to try something new, so having the opportunity to visit Royal Caribbean's newest, biggest baby, Icon of The Seas during construction is a bucket list trip I never dreamt about. The Mayer Turku shipyard, Finland has a long legacy of shipbuilding with Royal Caribbean, this will be the 23rd since 1970, and there are 3 more on order.
Walking towards the ship, what strikes me is the scale, this is one huge floating resort, and she already looks incredible, despite not welcoming her first guests until 27 January 2024. Let's talk numbers for a moment… 20 decks, hosting a maximum of 7,600 guests, looked after by 2,350 crew weighing 250,800 tonnes and with 6 record-breaking waterslides, hard to imagine, right?
Stepping onboard, our first stop is the AquaDome, weighing 330 tonnes with 673 glass panels, offering a one-of-a-kind venue that transforms from a calm oasis by day to next-level entertainment at the AquaTheatre by night. We were lucky enough to witness the sound and light projections in test mode and believe me, this is some cutting-edge technology.
Water is a running theme onboard Icon of The Seas, as we are whisked up to Thrill Island to view the largest waterpark at sea in fact, I'm told there's 62% more water-based fun onboard versus other ships. Thrill Island, hosting 6 record-breaking slides, adrenaline junkies will not be short of things to do here. Pressure Drop, is a first-of-a-kind open freefall slide and Crows Edge thrusts you literally over the edge, I'll need some Dutch courage before braving those two.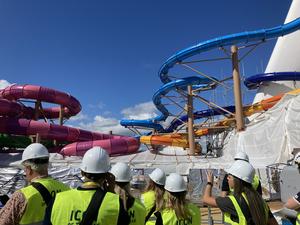 Next stop, donning my trusty hard hat and high vis jacket is Surfside neighbourhood, a clever concept with everything perfectly connected for younger families. Parents can cool off at Water's Edge pool, with the kids within view at Splashaway Bay and Baby Bay. There are places to dine, spaces to relax and a one-of-a-kind carousel, designed by a bunch of kids meaning the characters are anything but normal.
Let's talk about dining options, which Royal Caribbean has always been famous for, but now there's more choice than ever and the team was keen to shout about all things new and showcase the stunning main dining room that spans three decks with a gorgeous chandelier as the centrepiece. Guest experience is at the heart of everything onboard Icon of The Seas, and I'm told there's mind-blowing technology that will inform diners when their table is ready, meaning no queuing, how clever is that! Favourite new additions? How about Izumi in the Park serving sushi to go, and Champagne on the go' from Bubbles in Central Park, j 'adore!
Assuming kids will be nicely worn out, and needing their batteries recharging, we were shown a few of the 28 room types available. I'll focus on just two, both incredible but with very different price tags! The Family Infinite Balcony is well thought out and offers floor-to-ceiling views of the ocean, easily converted from indoor to outside space at the touch of a button. In addition, there's a 'no grown up' alcove and bunk beds with their own TV, what more could they need? Sleeping up to 6, perfect for larger families.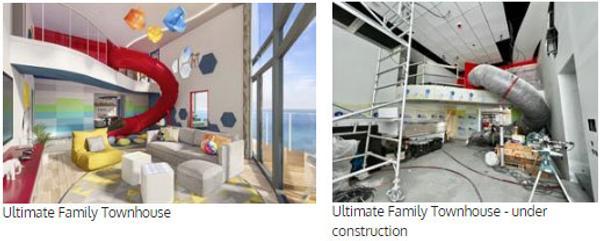 OK, brace yourself, for the Ultimate Family Townhouse, with its own cinema, karaoke space, in-suite slide, and outdoor whirlpool, this is giving me serious Willy Wonka vibes. Sleeping up to 8 with every feature made for families I can only imagine what the space will look like when completed, for now, I'm counting down to the launch and ready for all of those thrills and spills.