Business Travel Show 2023
Last month, some of the Advantage team and I had the privilege of attending the highly anticipated Business Travel Show Europe 2023. This is a crucial event for Advantage as it provides a platform for us to connect with our business partners and TMC members. In addition, the informative conference sessions and workshops on various relevant topics offered us an opportunity to gain new insights and perspectives on the industry. We also had the pleasure of networking with other industry professionals, which was an invaluable experience.
With 200+ exhibitors and experts, 35+ education sessions, 75+ industry speakers, the Business Travel Show has firmly cemented its position as the largest exhibition and conference for the European corporate travel community. The event was held at the ExCel Centre in London, and we made it our mission to keep you updated on all the happenings. You can visit our YouTube channel playlist here, where you can find interviews with some of our members and business partners as well as updates and roundups of the two-day event. You can read conversations and meetings as they happened on our LinkedIn and Twitter pages.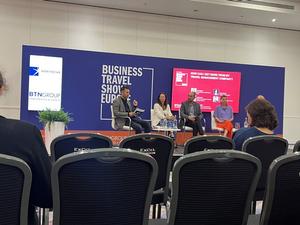 Whilst at the Business Travel Show, I had the pleasure of being part of a panel in a session on how you can get more from your travel management company. It was great to sit alongside other industry leaders and really delve into the topic.
Ahead of the show we launched the latest edition of our Global Business Travel Review, produced in collaboration with Travelogix. I was delighted to sit down with Chris Lewis, Founder and CEO at Travelogix, and Andy Hoskins from BTN Europe to discuss the finding and analysis from the Review in more detail. You can watch the full interview here.
We are proud to have been a part of this event and we are looking forward to the next one.