A Tale of Two (US) Cities
Having recently returned from an extended trip to the US, I wanted to reflect on my experiences both on a business level and personally. As the title suggests this is an overview of two events in two cities, both looking to achieve similar goals, but ultimately with two completely different audiences.
In the historical novel written by Charles Dickens, the author asserts his belief in the possibility of resurrection and transformation both on a personal level and on a societal level, I see similarities between the recent GBTA Convention, the ITMC Summit hosted by Advantage & Hickory Global Partners and the improving travel landscape.
Let's start with GBTA, hosted in the extremely hot city of Dallas, with temperatures exceeding 40 degrees daily. Recovery is hotting up; in a dominant US market we learnt that Global Business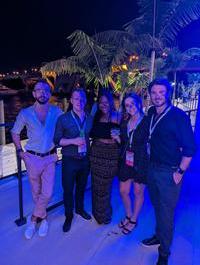 Travel Expenditure is expected to recover to pre-pandemic levels of $1.4trillion by the end of 2024 and by 2027 the total value of the sector will be around $1.8trillion. But let's put this into perspective, GBTA speaks the language of the big brand global travel providers who in turn service multi-national customers who spend $millions on travel programmes. For a membership organisation like Advantage, which represents the global SME TMC this information is crucial and expands our knowledge, but we know that some of the customers our members provide travel service to are well ahead of 2019 trading and are outperforming some of those multinational travel programmes.
GBTA Convention 2023 lived up to expectations, with an audience of 5000+ delegates it continues to provide educational content, access to supplier partners and extensive networking opportunities, all on a grade scale. This was my fourth GBTA, and the post-pandemic conventions have demonstrated how the travel sector is rebounding, with more suppliers and TMCs exhibiting, bigger budgets and more people participating. This certainly demonstrates a resurrection to possibly new levels, but I caveat this with a slow transformation towards year-on-year expanding green initiatives. These included advocacy of walking to the convention centre, bringing your water bottle, separating waste via designated bins and GBTA offsetting all emissions relating to the event, except delegate travel to a local project. This in my opinion when combined with the increasing desire to meet in person is the societal change that is taking place.
Leaving Dallas behind I headed for the Sunshine State of Florida, first stop Miami before making the short drive to the City of Fort Lauderdale the venue for the long-awaited ITMC Summit.
The last time the event was hosted was in 2018, in Fujairah UAE. The world has changed a lot since then and so have our audience the independent TMCs. This is where I draw differences between GBTA and our aspirations for the ITMC Summit. One provides you with insights into multimillion-dollar travel budgets and large corporations with global operations, the other a collective of independent businesses who know the SME customer well, providing a high level of customer service and have an entrepreneurial way of delivering support to their travellers. The latter is stronger together as a collaboration unit, sharing ideas, and openly expressing thoughts and innovation. It is for that reason that ITMC was born. We wanted to provide a mini GBTA, but one that understands the needs of the independent TMC and speaks their language.
Our focus for this event was firstly 'Bringing Global Business Travel' together, so a resurrection of the in-person meeting for the SME TMC, but on a global level. Secondly looking at ways the independent TMC has evolved and could transform with the adoption of new processes and technology.
The attraction of ITMC is that this is a global audience, this is especially important when we are looking at key topics. In the workshop sessions, a consistent message from the delegates was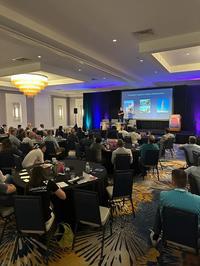 knowing your customer, offering personal services and being able to offer a blended travel service which combines leisure and corporate travel. These were all features of long-term success and being that trusted advisor of the customer.
One of the key features of this event is our willingness to have suppliers, buyers and TMCs in the same room. This provides open and collaborative debate and helps shape the role and future strategy of the TMC.
Modern Retailing, the alternative wording for the most controversial acronym (NDC) was a key and unique feature of the ITMC Summit. We were lucky enough to have a panel consisting of American Airlines, Delta, Amadeus and a leading Tech-Focused TMC. Each presented their perspective on how an independent TMC can earn and operate in this transforming air content landscape. Our audience seized the opportunity to question and quiz the panel.
Finally, and on a more light-hearted note, we offered a selected panel of newish tech providers to come on a date with our audience. Our panel didn't disappoint and all presented reasons why their respective businesses should win that all-important second date with the independent TMC. This provided our audience with the opportunity to look at new tech and provide feedback on their suitability for their businesses.
So, in summary, this was a tale of two events in two cities, both aspiring to provide similar messages, but to different audiences. However, they do have a common theme, resurrection, and transformation. Our industry is coming back, learning, and evolving to meet the needs of the new traveller.