"Dreams are back in business"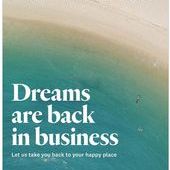 "DREAMS ARE BACK IN BUSINESS"
Is the Message from Advantage Travel Partnership's New Consumer Marketing Campaign
The Advantage Travel Partnership, Britain's largest consortium of independent travel agents, puts holiday dreams up front and centre with its first direct mail marketing campaign launched since the onset of the global pandemic in March 2020.
The campaign will reach close to 50,000 customers with the personalised collateral including the members' contact details and logo. The content is designed to be inspirational as well as educational and includes a wide variety of feature-led articles on short-haul, long-haul and cruising holidays. Destinations including Italy, Malta, and Greece feature as well as Thailand and Barbados along with an article on transatlantic cruising in time for the much-awaited opening up of the US on 8 November.
Advantage is also offering its members a full suite of designed digital assets and banners as part of the campaign that they can use in their own marketing and a digital version of the direct marketing mailer is also available to all Advantage members to promote throughout their digital channels, which members can add their own logos and contact details to and share with their customers. In addition, the marketing collateral also reiterates the benefits of booking through a travel agent, to help reassure customers that they will be guided through the new booking and travel process with agents' expert advice.
Advantage member, Suzanne Cumpston from Sam Smith Travel in Wales commented: "We cannot thank Advantage enough for their superb marketing effort and their campaigns directed at our clients. A creative collection of visuals and superb offers combined with a brilliant feature on the many positives of booking with travel agents has recently resulted in a particularly lucrative cruise booking for us. Dreams are most certainly back in business!"
David Forder, Head of Marketing, Advantage Travel Partnership commented: "We have continued to support members throughout the pandemic with a wide range of marketing materials and we are pleased that our latest piece of activity has been so well received. Destinations have been steadily opening up since May giving consumers more and more choice and our members more opportunity to sell. Now is absolutely the right time for travel agents to once again start to engage with their customers on a much more proactive basis. This is a critical time in the lead up to peak booking periods and we wanted to arm our members with every tool they could utilise to maximise bookings as they recover from the devastating impact of COVID."
In addition to the raft of marketing support, Advantage also provides its members with additional services such as: market-leading commercial terms; a full programme of engagement events; concerted industry-led lobbying efforts; and one to one advice and support directly related to navigating their businesses through the global pandemic.