Advantage launches phrase two of 'The Flexi pledge' campaign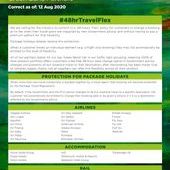 A summer campaign designed to increase flexibility for consumers booking summer holidays this year
13 August 2020
The Advantage Travel Partnership, the UK's largest independent travel agent and travel management company (TMC) consortium, today follows up from the launch of its 'Flexi Pledge – Book with Confidence' campaign last week with the publication of its 'Green List' of hotels, airlines and car hire companies offering consumers the best flexibility this summer.
Last week Advantage issued a rallying call for the industry to commit to a '48-Hours' Flexi' policy for consumers to change a booking at no fee when their holiday is impacted by new Government advice. Whilst ATOL bonded tour operators are already bound by the Package Travel Regulations (PTRs) to provide an alternative holiday or refund for customers affected by a change in the FCO advice, those customers booking component parts of a holiday independently will not be covered and may find themselves paying an additional fee to change their booking at short notice through no fault of their own.
Julia Lo Bue-Said, CEO of The Advantage Travel Partnership said: "With Spain falling off the quarantine free list and expectations for destinations like France to follow it's not surprising consumer confidence in the travel industry is at an all-time low. We believe that highlighting the degree of flexibility offered by the industry in an easily digestible format is the only way to help bring back consumer confidence to book. We have undertaken a full audit of our supplier partnerships including airlines, hotels, ground transportation, analysed their flexible booking policies and created the 'Green List' of suppliers which offer a '48-hours' free date change'. Terms and conditions for holidays can be complex so we urge consumers to always talk to their travel agent who will have the best up-to-the-minute knowledge to provide them with a pit-fall free holiday."
In tandem, the Consortium is lobbying the UK Government to provide the industry with 48-hours' notice when it deems destinations on the quarantine-free list need to be removed due to a rise in COVID-19 cases.
Click here to view the Green List' of hotels, airlines and car hire companies offering consumers the best flexibility this summer >>