The Advantage Travel Partnership launches its new homeworking model, 'Travel Specialists by Advantage'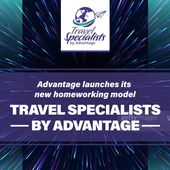 20 August 2020: The Advantage Travel Partnership, the UK's largest independent travel agent and travel management company consortium has announced its new dedicated homeworking model called 'Travel Specialists by Advantage', offering a market-leading fee structure and flexible managed service options. With COVID-19 impacting on travel agents' jobs across the country, this will provide an alternative homeworking choice that is supported by a trusted membership organisation.
The new framework and fee structure are based on 2% of turnover and Advantage have positioned this as a hybrid between a traditional homeworking organisation and a managed services model. Travel Specialists by Advantage is aimed at existing homeworkers looking for less support and a higher share of commission and experienced travel agents considering starting their own business.
Agents who choose this option will have the full backing of the Advantage Travel Partnership and its benefits include marketing and sales consultancy, a ring-fenced Trust Account for customers monies, access to industry-leading commercials plus incentives and educational opportunities, administrative and out of hours support and having the flexibility of using their own branding or the Advantage name.
Kelly Cookes, leisure director at Advantage Travel Partnership commented: "We're really excited to be launching Travel Specialists by Advantage as it was a natural progression for us to add this to our portfolio. As a result of the pandemic, unfortunately, many talented agents have lost jobs, and we hope this will help those looking for new opportunities during this time. With a competitive commission structure and a host of benefits and support from our expert team, this model is a great option for travel agents looking for the security that comes with being part of a consortium with the flexibility of homeworking."
For more information, please visit www.travel-specialists.co.uk.