White's Travel joins Advantage Travel Partnership's AMS model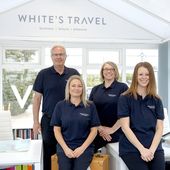 The Advantage Travel Partnership, the UK's largest travel agent consortium, has recently onboarded White's Travel to its AMS model. Over the course of the last year, Advantage has seen a 40% increase in recruitment enquiries, with the majority of those for its managed services model.
White's Travel, whose retail premises is located in Ellerker Lodge Garden Centre in East Yorkshire is owned by Mel and Ian White. The agency was founded in 2006 when Mel set up her own home-working business, Mel Hatfield Travel with the help of Gary Cooke at Bakewell Travel who is an Advantage member.
Ian who was the CEO of Corporate Travel International, then set up a small corporate division working alongside Mel. In 2016 they married and rebranded as White's Travel, before branching out from home working to the space in their local garden centre in 2019 and now employ two team members, Claire Hastie and Liz Vann.
Advantage has seen interest across all models, but its managed services model is receiving the most enquiries. Advantage Managed Service (AMS) offers agents fantastic value for money combined with the peace of mind vital to running a travel business as all pipeline monies are protected in a trust account. All AMS members are supported by a dedicated finance contact, are not charged for technology and the service provides net rate merchant fees, ATOL options and best in class marketing support for members.
Mel White, co-owner of White's Travel commented, "We are so pleased to be joining the Advantage Travel Partnership. Between Ian and I we have more than 65 years' experience in the travel industry, and since joining Advantage we have been greeted with Zoom smiles and a helpful team who have gone out of their way to welcome us with open arms, and we feel that we are now members of a huge family we never had. Despite the COVID pandemic being the most challenging time of our careers, it has given the industry the chance to hit the reset button and we hope by working together, we will come out the other side stronger and recognised for our professionalism and expertise."
Kelly Cookes, Leisure Director at Advantage Travel Partnership said, "The last year has been unimaginable for small businesses, but we believe that many travel agents will be evaluating what they need to be able to move forwards. We are really excited to have White's Travel choose us as a partner and we look forward to progressing other opportunities that are in the pipeline. We have seen an increase in recruitment enquiries which we hope is reflective of our support to members prior to, and throughout the pandemic."