Advantage's white label website service generates £1M in sales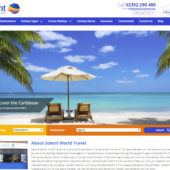 Advantage Travel Partnership's white label website service has helped members generate bookings worth more than £1 million, between October 2017 – September 2018, an increase of 72% on the previous year.
Advantage provides members with a fully managed website service, from build to daily support and on-going development, either in person, on the phone or through online tutorials. All members receive a 360 approach and service to ensure their site is personalised to their business.
The websites are built to benefit from Search Engine Optimisation (SEO), and recent upgrades have included switching to the secure HTTPS protocol to protect the data being processed on the sites. Additionally, a sophisticated multi-purpose holiday offer platform integrates supplier product content with a member's websites and social media feeds, as well as enabling members to create personalised offers to use in point of sale. Further personalisation can be achieved through the blog facility which allows them to create their own user-generated content, which complements a destination content feed powered by Word Travels, to help inspire customers.
Advantage also helps members analyse their website performance by providing a monthly Google Analytics report, as well as tracking the value of bookings made through website email enquiries.
Paula Lacey, Group Commercial and Membership Director, Advantage Travel Partnership, commented; "We are really proud that the white label service is providing our members with the tools to successfully build their businesses online. With the online world providing a 24/7 shop front, our agents understand the need to have a digital presence and continually evolve their websites to remain current and attract new customers. We are looking to assist them with this by redeveloping the white label websites to further enhance their capabilities. We are thrilled to help an additional six members build their new white label website and we expect more to join the service. Achieving £1 million worth of sales clearly demonstrates the value this proposition brings to our members."
"The recent launch of Advantage Connect, a new internet-based interactive booking and quoting tool, highlights that despite the internet being globally connected customers and businesses want individuality and the white label service provides this with expert support."

Members' have been utilising Advantage's mobile responsive white label site offering since it launched in 2014 to ensure that their online shop provides an SEO friendly, secure, engaging and easy to use portal.