Registration for the Advantage Conference 2017 now open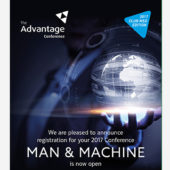 With a conference programme that looks at the importance of technology in the world, while reconfirming the need for people to remain, the theme MAN & MACHINE has been chosen to capture the essence of this dynamic environment.
The dawn of Artificial Intelligence is upon us. Technology is evolving fast to help us achieve our everyday goals and expose us to experiences we could previously only imagine. The self-driving car is just one street away.
But the importance of great people is as key as ever.
In the heart of Aix-en-Provence, the Advantage Conference 2017 will convene to consider the powerful combination of smart technology and human service to enhance the world of travel.
Welcome to "MAN & MACHINE"
Commenting on the sentiments behind the theme, Colin O'Neill, Advantage Business Development Director said: "The key purpose of our conference this year is to better understand the technological innovations that will have an impact on the way in which we run our lives."
"However, rather than see these developments as a threat, we wish to consider how as humans we can master the technology and use it to our advantage; MAN & MACHINE working in harmony with one another."
For all the latest conference news please visit advantageconference.co.uk or contact the events team at events@advantagetravelpartnership.com or 020 7324 3945.