David Meade announced as speaker and moderator at the Advantage Conference 2019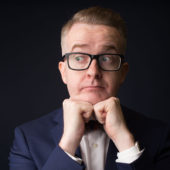 Advantage Travel Partnership, the UK's largest independent travel agent consortia, has announced world-class international corporate speaker, performer and TV personality, David Meade will complete the keynote speaker line up at this year's Advantage Conference.
David Meade has a renowned reputation for helping organisations work more effectively, his mindreading, and mentalist skills impress and baffle worldwide audiences making his entertainment and keynotes hard to forget. His sought-after services are applicable to any industry, engagement, or occasion.
David was a researcher and lecturer in international business with one of Irelands leading Universities. He has a personal interest in popular psychology, consumer behaviour, and choice. By combining his professional and personal passions with his love of mentalism, David has become one of Europe's most renowned speakers with a reputation for an innovative style that forces audiences to think critically about the challenges around them.
David will moderate the three-day event, taking place between 17-20 May 2019 in the sunny Andalusian province of Sancti Petri, Cadiz.
Julia Lo Bue-Said, CEO at Advantage Travel Partnership said, "We are so excited to have David Meade as our moderator for the whole conference, and to have him run a keynote session. David always guarantees a highly energetic, fun and engaging sessions, his performances not only amaze and entertain audiences, but they leave fascinated by what he can do. We can't wait to see what he has instore for our delegates."
David Meade will be on stage to welcome delegates and will run a highly interactive keynote session on Saturday morning. David completes a plenary programme line-up featuring BBC Scotland Editor, Sarah Smith, and Ant Middleton, best known for this role in SAS: Who Dares Wins.
The 'Vivolution' theme for the Advantage Conference 2019 will see attendees discuss, reflect and look forward to how members and business partners can contribute in shaping the future of travel. Encompassing educational and networking sessions across the leisure and business travel industries, plus expert speakers and presentations, the three-day conference will provide plenty of insight and inspiration to attending members.
Conference sessions will be held at the four-star Valentin Sancti Petri Hotel and Convention Centre, the largest event space in the Cadiz region. Advantage Conference guests will stay in a number of four and five-star hotels located on Sancti Petri's beachfront.