Partnership announced with ASAP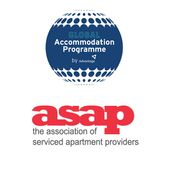 ADVANTAGE AND WIN GLOBAL TRAVEL NETWORK PARTNER WITH ASAP
To offer accredited, compliant serviced apartments through the Global Accommodation Programme - 2021
London, 10th February 2021 – The Advantage Travel Partnership, the UK's largest independent travel agent and travel management company (TMC) consortium, and WIN Global Travel Network, the international network of corporate travel experts of which Advantage is majority shareholder, have announced a partnership with the Association of Serviced Apartment Providers (ASAP). Travel management company (TMC) members will have the assurance that when booking an accredited ASAP serviced apartment they are fully compliant at providing accommodation that is safe, secure and meets infection control hygiene standards, that the accreditation benchmark provides.
The partnership supports the ongoing focus on duty of care, diversity, equality and inclusion (DE&I) as well as the focus on mental health and wellbeing, which are some of the key features that have evolved and are now part of the Global Accommodation Programme - 2021 (GAP); traveller consideration is at the core of the programme. ASAP is committed to ensuring the highest standards in the serviced apartment sector and all accredited ASAP members have been assessed by ISAAP, the International Serviced Accommodation Accreditation Process, the leading global provider of quality assessment, reporting and recognition awards for the serviced accommodation, corporate housing and executive suites sector of the hospitality industry.
TMCs using the Global Accommodation Programme - 2021 can identify accredited ASAP members when looking for serviced apartment providers and will have added reassurance of standards and security compliant with the Global Secure Accreditation or Certification (GSA) (if completed).
TMCs can emphasise safety and security as key components in travel policies, as search criteria within serviced apartments (and other compliant accommodation providers), in their selection process and booking functionalities.
For ASAP accredited members inclusion in the Global Accommodation Programme - 2021 puts their properties in front of a massive global booking force of TMCs and their clients across 75 countries. Collectively the aim is to work together to provide the best quality accommodation for the traveller, keeping them at the core.
Leigh Cowlishaw, Global Supplier Partnership Director, The Advantage Travel Partnership said: "Our partnership with ASAP is further confirmation of our continued focus on duty of care, safety and security for guests and travellers. Increasingly we all want assurances and to ensure that our wellbeing is considered and agreed protocols are being met.
"When we are able to travel again and stay away from the safety of our own homes in accommodation providers, selection criteria must feature such standards to ensure that we feel safe. It is paramount that travel policies mirror such recognised standards to pre-empt traveller concerns and anxiety, as well as providing them with assurances. Our Global Accommodation Programme – 2021 is a key part of our Global Business Travel Proposition."
James Foice, CEO, Association of Serviced Apartment Providers said: "Our industry has taken a huge hit during the pandemic. One of the most significant factors that will drive recovery will be the confidence both travel buyers and guests will have in accommodation providers and their duty of care.
"Accreditation is one easily recognised way for operators to provide reassurance, and collaboration between like-minded organisations with a similar focus on safety will reinforce this. We are delighted to partner with Advantage and WIN at this time. As the UK's largest independent travel agent group representing hundreds of agents, coupled with their global members, they magnify our own passion for delivering exceptional, and exceptionally safe, guest experiences."