Hello Suitcase!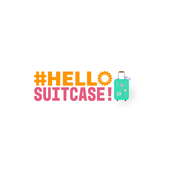 Advantage Travel Partnership launches a new campaign to give travel agents the confidence to sell.
The Advantage Travel Partnership, the UK's largest consortium of independent travel agents has launched its new campaign, 'Hello Suitcase'. The campaign aims to support Advantage members by giving them the confidence to sell during a continued period of uncertainty and as the travel industry recovers from the Coronavirus pandemic.
Recent booking data suggests that there is increasing demand among consumers to travel for this summer, especially among those who are fully vaccinated. However, the continued changes to traffic light updates and government restrictions is affecting confidence to book. In addition, as many travel agents haven't themselves travelled during the pandemic their own confidence to book travel for their clients and the fear of having to cancel and rebook should a destination change category, especially at short notice has had a real impact.
The campaign aims to reassure Advantage members that although the travel landscape is a little different now, it is still possible to travel for leisure or business travel – and the best place for people to book is with a trusted travel agent, who can guide them through the new travel landscape, from testing needs to entry requirements.
Advantage will launch a toolkit as part of the campaign, to help boost member and clients' confidence to sell and book holidays, which will include sharing of video and image content via the revived @keeptheworldtravelling Instagram page set up by Advantage as part of a successful campaign last year. Advantage is encouraging agents and their clients to share video and image content of the new travel experience on Instagram and using the hashtag #HelloSuitcase, which will then be shared on the page. They are also asking their tour operator and airline partners to post content to the page, that highlights the flexible booking options available to consumers. Advantage has already received content from Polka Dot Travel, which clearly explains the process of travelling abroad. Advantage will be sharing this content across the channel which will act as an example of the type of content the consortium is looking for, but also reassurance to agents about the new travel experience.
To support this social media activity, Advantage has created social media tiles and animated graphics using the new 'Hello Suitcase' campaign creative, and displaying confidence building messages. There will also be a 'top tips' for shooting, editing, and using video so that members can submit content to the page, but also have the confidence to use video content in the future for their businesses.
The toolkit will include a series of promotional offers provided by Advantage's suppliers for agents to use, which will be available through Advantage's members Facebook Hot Offers Page. The promotional trips will include 2021 departures and agents will be able to lift these and use on their own social channels, making the process simple to promote travel now. Advantage will also list suppliers' flexible booking conditions on their member's intranet so that agents have easy access when dealing with enquiries.
In addition, Advantage's Business Development Team will be providing a series of webinars to help members cope with the ever changing travel rules and restrictions. Perfect for staff who are returning from furlough or for those who have worked throughout and would like a refresh, the sessions will aim to instil confidence about the booking landscape, and will include topics such as the customer journey, testing deals, sales and marketing hints and tips and more. The sessions will be available to all their members and run through late summer and autumn. Further to the central business support Advantage offers its members, a new partnership with ReSolve Group UK, a leading business advisory, will offer member owners expert business advice around financial planning.
David Forder, head of marketing at Advantage Travel Partnership commented, "Our new 'Hello Suitcase' campaign and expansive toolkit is focused on showing agents and their customers that travel is back on the agenda. We hope that the range of resources that we have created will help to convey that message and support our members through this recovery phase.
He continued, "The feedback we've had from those who have travelled overseas have said that the once the process has been undertaken, it is much more straightforward than it may initially seem and we want people to be reacquainted with their suitcase again, pack for their holiday and get back to enjoying travel once again."