Coronavirus Travel Research: 44% of Millennials would book with a travel agent in the future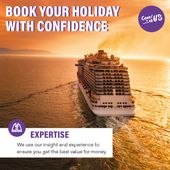 The Advantage Travel Partnership has conducted a consumer travel survey that has revealed that 44% of Millennial travellers who do not currently book through a travel agent would use one in future, indicating advice, expertise and the reassurance of having someone to help if travel plans need to change, as the main reasons for now favouring a human travel agent over booking online.
The research, which was completed by 1,089 respondents from across the UK, found that more than a third (38%) said that they do not usually book travel through a travel agent, but of them, 36% said they will use a travel agent in the future. 25 – 34 year olds were the least likely age group to currently book with a travel agent (62%), but the results revealed that 44% of them would do in the future. The over 65s remain the largest group to favour the use of a travel agent (77%), this is closely followed by the 18-24 year age group (76%) demonstrating that the younger audience is open to booking with their local travel agent which could open up a new target market for many agents across the UK.
The survey also revealed future travel plans, and three-quarters of respondents said that they would travel either domestically or abroad within the next 3 – 6 months if restrictions permitted them to do so. The most popular type of travel experience was a UK break, closely followed by a European mini-break and a winter sun holiday. Unsurprisingly, the data indicates that confidence to travel overseas on both shorthaul and longhaul trips increases with time, with 80% of respondents saying they will travel overseas after summer 2021, compared to only 42% in February 2021 half term and 66% between the May Bank Holiday and the 2021 summer holidays.
In terms of COVID testing, over 55% of respondents said using a double testing method to reduce quarantine to 5-10 days on arrival back to the UK would provide them with the confidence to travel abroad now. 57% said they would be prepared to pay for a test if it meant they could travel freely to a restricted destination and 32% would prefer the test to be arranged for them and be included in the cost of their holiday. The results found that the younger the age group, the more willing they are to pay for a COVID test to travel, with 79% of 18 – 24 year olds confirming they would pay for a test to travel, whilst 56% of over 65s would not be prepared to do so.
The global pandemic has caused ongoing cancellation and rebooking issues for travel agents across the country and the data suggests that more than half of people are looking for free cancellation or a rebooking option within 48 hours of departure to give them the confidence to book and travel in the next three months. 22% said they would currently feel comfortable booking their next holiday less than 14 days before departure.
"We know that consumer confidence has been severely impacted over the past six months, but it is reassuring to see that consumers do value the services that travel agents provide and would trust them to book their travel in the future, especially among the younger age groups who historically will dynamically package their own trips. Throughout the pandemic, travel agents have demonstrated their value and have often been the first port of call for travellers when things go wrong, providing that all-important human element during times of uncertainty.
It's also positive to see from the results that if the UK Government implements a testing system, travellers would be prepared to pay for a test and would have the confidence to travel without being caught out by quarantine changes. Grant Shapps said this week that there will be a private sector testing regime by 1 December 2020 dependent on testing firm capacity we are certain that this will help to repair consumer confidence and get people travelling again which is critical to the survival of many travel agent businesses up and down the country." commented Julia Lo Bue-Said, CEO at The Advantage Travel Partnership.
The Advantage Travel Partnership is the UK's largest consortium of independent travel agents and business travel management companies and collectively they produce over £4.5bn of travel sales each year. The anonymous survey was completed by 1,089 respondents between 28 September and 12 October 2020.