Advantage Travel Centres is financially strong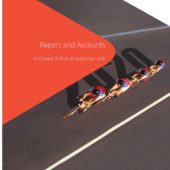 London, UK – 15 June 2017: The consolidated Report and Accounts for the financial year 01 October 2015 to 30 September 2016 have been reported by Advantage Travel Centres Ltd.
The accounts, which have been audited by leading accountancy firm Deloitte, show a very healthy profit after tax result for the group of £600k – an increase of 21% year-on-year. Turnover increased to £18.7m.
Advantage Managing Director, Julia Lo Bue-Said commented: "We are delighted at the performance of the group; creating a wealthy business on behalf of our member shareholders. We will continue investing further in the group, an example of which was the acquisition made for the majority of shares in WIN, earlier this year.
"Our success factors are not however measured purely on the profits we make but on our ability to reinvest into the organisation, in our products and services, for the benefit of our members. We have seen an increase in the average member benefit to £29k from £28k last year"
"Given the financial strength of the organisation we see this as an opportunity to continually look at how we deliver a world-class proposition. Given the group's performance, the Board are recommending a significant increase to the member dividend.
Advantage Finance Director, Nick Moser commented: "I am pleased with the profit result, which has importantly improved the overall financial position of the group. Our strong net asset position provides a platform for us to achieve our plans to increase the levels of investment in our technology solutions and to seek out strategic opportunities that will further benefit members."