Advantage Travel Partnership named as 'one to watch' in the Best Companies b-heard survey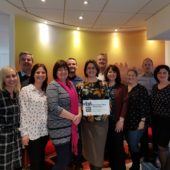 Advantage Travel Partnership, the UK's largest independent travel agent consortium, has been named as a 'one to watch' organisation in the Best Companies b-heard survey. The first member-owned organisation to be accredited.
The Best Companies survey is a workplace and employee engagement survey which powers The Sunday Times top 100 company list. The 'one to watch' accreditation is a special status awarded to organisations that have good levels of engagement workplace amongst employees.
The survey, completed by Advantage's employees, includes various scoring questions on topics ranging from leadership and wellbeing to management style and team. Based on the answers provided by staff, Advantage generated a Best Companies Index (BCI) score of 626.1. In order to be awarded with this accreditation, a company must score 600 or more on the BCI. This year in the small company category, only 75 in 321 companies achieved this level of accreditation.
Advantage run various staff initiatives, including 'Breakfast with the Boss'. This is regular event hosted by Advantage's managing director, Julia Lo Bue-Said and is an open and confidential forum for staff to discuss any issues over a company-bought breakfast. Advantage also holds an 'Employee of the Year' award, whereby each line manager at every level nominates a team member. Three members of staff are then shortlisted and invited to a celebratory lunch. The scores from the survey demonstrate the strength of these staff initiatives and how these are highly regarded amongst staff.
Leadership was deemed to be the most important category amongst Advantage staff. Statements which scored highlight included "I am inspired by the person leading this organisation" and "I feel proud to work for this organisation". As part of the management section in the survey, 91% of staff agreed that they felt their manager talks openly and honestly with them.
Julia Lo Bue-Said, managing director at Advantage Travel Partnership commented: "I am proud that Advantage has been named as a 'one to watch' company in the Best Companies survey. We know that when staff are engaged, they take pride in what they do and are inspired to work hard, which ultimately results in a more successful organisation. Our aim is to continue to improve on this score annually."