Advantage launches Explorers initiative and magazine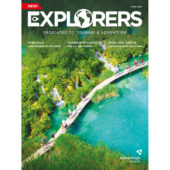 The rise in bookings and interest for touring and adventure holidays provided Advantage Travel Partnership, the UK's largest consortia of travel agents, with the opportunity to launch Explorers. An initiative focusing on touring and adventure holidays, Explorers will share supplier and industry news, trends, and information to a dedicated community of Advantage's members through the introduction of a bi-annual magazine, titled Explorers, plus monthly emails, dedicated training and various campaigns.
The 150 Advantage members who have already opted to be part of the Explorers community, will receive the first magazine on 10 June 2019, which includes content from the sector, as well as statistics and recommendations about solo travel. Members can also read about the latest touring and adventure travel news, upcoming events, trending travel destinations, top recommendations and travel tips from knowledgeable tour guides.
Explorer members will also receive monthly emails to update them on offers and fast-moving industry topics with the plan to increase member support with dedicated B2B and B2C marketing campaigns.
David Forder, Head of Marketing, Advantage Travel Partnership commented; "The launch of Explorers is another development within our efforts to create bespoke support for members through targeted communities, communications and collaborations. Not only will our Explorer's members have access to dedicated marketing and information but also fellow agents within the community to share practical tips and first-hand experience. We are excited to launch this initiative with another member exclusive publication to help them with the knowledge they require to educate and sell to their customers."
Further information about the Advantage Travel Partnership (www.advantagemembers.com).