Advantage Holidays strengthens product offering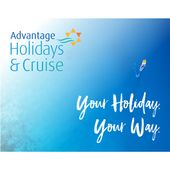 Advantage Holidays, the in-house tour operator from Advantage Travel Partnership, has strengthened its beach, city and USA product offering with the introduction of a new relationship with Expedia Partner Solutions. This comes following a review of content suppliers throughout the ongoing COVID-19 pandemic, where partner support is crucial to the operator.
The new relationship greatly enhances the Advantage Holidays offering, creating a wider breadth of quality hotel choices across Europe and selected USA cities, providing members with the ability to grow their businesses when demand for travel returns.
Additionally, it provides advantageous pricing on European city and beach destinations, an area of strength for the operator, with increased competitiveness in Spain, Italy, Germany, Netherlands and Poland where forward bookings for mid to late 2021 remain encouraging.
Lee Ainsworth, Head at Advantage Holidays commented, "Throughout the pandemic, our partnerships have been more important than ever. We've worked hard to build on both new and existing partnerships, by forming a collaborative approach that has really allowed us to be agile in regard to cancellations and refunds for our members and end-customers during this challenging period. Our members have always looked to us to provide them with greater access to product so they can remain competitive in the market place but it's about more than that now, it's making sure our partnerships work in the challenging times as well as the good. We are really excited to be working with Expedia Partner Solutions so that when the travel industry does recover, we will be in the best position possible to provide more price competitive product than ever before, resulting in members having the opportunity to grow their business ."
Alfonso Paredes, Senior Vice President, Commercial Partnerships at Expedia Partner Solutions said, "We're thrilled to be working with Advantage Holidays to help create a wider breadth of quality hotel choices for their customers in key destinations around the world. It's a challenging time for both the industry and travellers, but we're committed to helping our partners navigate through this pandemic and return to growth as quickly as possible. Our partners can be confident that by taking advantage of our industry-leading technology, large and diverse global supply and unmatched partner support, they are in the best possible position to capture demand as it returns."
Advantage Holidays allows members to book financially protected holidays under the central Advantage ATOL, enabling members to package flights, accommodation and ground arrangements across 43 short and mid-haul destinations and five core USA destinations. In addition to regional departures, flexible durations and 24/7 customer support, members receive access to more than 200,000 hotel options and negotiated air fares.