Advantage Travel Partnership launches domestic travel marketing campaign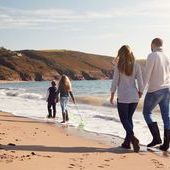 The Advantage Travel Partnership, the UK's largest travel agent consortium, has launched its largest-ever domestic travel campaign to support agents in response to a massive demand for staycations. With so much uncertainty around the restrictions that may be in place for international travel and the introduction of 'Seacations', the industry has seen an increase in travellers considering a great British break this year.
The campaign, comprising of marketing assets and supplier information, will arm agents with the tools they need to take full advantage of the opportunity that presents them to book UK breaks including domestic cruises.
Consisting of both B2B and B2C activity, Advantage has collaborated with more than 30 suppliers to bring their members a host of digital collateral and information. With reports of the staycation market booming in 2021, Advantage will also be including a dedicated UK staycation hub on their members' extranet to house commercial and marketing material from various UK operators to make their agents lives as simple as possible. This will include a UK supplier directory detailing product ranges, trade contact details and current offers available, plus a dedicated resource for domestic cruises, with the comprehensive information agents need to confidently advise and sell these products.
Travel agents across the UK are still dealing with limited resource, with many staff still on furlough, so agencies will not be in a position to invest money on expensive marketing tactics following an extended period of travel restrictions and changes. Therefore, Advantage has designed the campaign to have a digital focus, to offer speed to market and a cost-effective way to reach existing and acquire new customers.
David Forder, Head of Marketing at Advantage Travel Partnership commented, "Although international travel looks set to open later in May, the number of destinations on the green list is yet to be confirmed and is likely to be extremely limited. We have worked with our suppliers to create this dedicated domestic campaign to showcase the significant increase there is in domestic product to meet the demand for staycations which we know is there. Our members are now in a position to offer more domestic holidays than ever before providing a personalised service and help customers make the right choice for them. Our suppliers have shown agility and innovation in creating new products in a very short timeframe which means we are able to support our members and in turn offer their customers a broader range of staycation options.
He continued, "It's more important than ever we help our members benefit from any opportunity that presents itself in this fast-changing situation we are in, and whilst staycations are arguably more straightforward for customers to book themselves, an agent can offer the same level of inspiration and expertise for a staycation or seacation as they can for an overseas holiday, which takes away the headache of researching suitable British breaks."
The campaign will include:
The 'UK Uncovered' bookazine
A digital, flickable 'brochure', highlighting staycation experiences from some of the UK's top travel providers. The UK Uncovered bookazine has been designed to be customer-facing to help members showcase UK suppliers offering a wide variety of UK holiday options, from cruises and tours to a range of accommodation options across the United Kingdom. The digital brochure will include a full page from each operator highlighting its product and UK specialism and can also be used by agents as a training tool.
Tactical emails
Advantage will create a range of email opportunities for members, including a 'Hot Offers email' designed by Advantage and sent to customers on behalf of its members. The email will be personalised to the customer and from the travel agent member, so it appears to be sent directly from the agent themselves and will feature a top 10 of handpicked offers, demonstrating value-add promotions and savings to help encourage bookings.
'Seacations' – a domestic cruise summary
A tool kit to help members quickly compare and sell the domestic cruise product that has recently been launched, including prices, ship details, departure dates and ports, target audience and vaccination/testing requirements.
B2B email newsletter and supplier spotlight solus emails:
Advantage will also distribute a range of B2B email newsletters and solus emails to members, providing an overview of UK partners, their current offers, incentives and campaigns, as well as a spotlight story on an operator within the email.
Social media
Advantage has also created a dedicated private member's Facebook group, which will include video updates from partners and partner offers which are designed for members to lift and share on their own Facebook pages to drive enquiries and bookings.