Advantage Travel Partnership launches an appointment booking app for members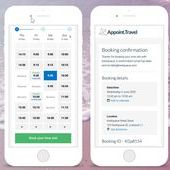 Advantage Travel Partnership launches an appointment booking app for members
London – 19 June 2020: With non-essential shops reopening their doors earlier this week, The Advantage Travel Partnership is rolling out an appointment booking app for its members so that customers can book both face to face and virtual appointments.
Designed to support travel agents to manage footfall in their retail stores and adhere to social distancing guidelines, the appointment system has been developed by digital solutions agency, Brighter Design. The app offers members an easy to use tool that allows them to resume their business effectively, whilst helping their customers to feel safe and easily connect with their travel agent.
Members that sign up, will receive a unique link that they can easily share with their clients through their websites, social media and via email. Clients will then click through to the booking page which will show the agents' availability of real-time, video or phone appointments which can be booked.

Agents will easily be able to manage their appointments as well as input their hours of business, block out time slots as required and supply customers with information such as which destinations and holiday types fit their areas of expertise. The customer enquiring will also be able to select holiday preferences in advance of the appointment, such as the destination, departure date, party size, duration and more.
Kelly Cookes, Leisure Director at Advantage said, "We're really excited to be launching the app as not only is it exclusive to Advantage members until the end of July, but we have also negotiated a special rate for our members. The app is simple to use and we hope will help to ensure agents are in the best possible position to deliver their expert and trusted service."