'Gadget man' to address 2017 Advantage Conference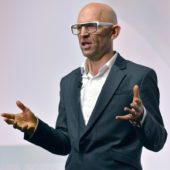 Jason Bradbury, presenter of the television programme 'The Gadget Show' has been announced as the second keynote speaker at the 2017 Advantage Conference.
Best known as the host of The Gadget Show, Jason will address the event, taking place between 12 and 15 May at Club Med Opio en Provence in the south of France.
Speaking about the appointment Julia Lo Bue-Said, Advantage Managing Director said: "We are delighted with the booking of our second keynote speaker, Jason Bradbury. With a conference programme that places a high emphasis on harnessing the power of emerging technology, Jason is an ideal choice as a conference speaker and his involvement will extend into moderating the main plenary sessions too."
With huge enthusiasm, a constant flow of ideas, and a love of performance (that belies his days as a stand-up comedian working with David Walliams) Jason Bradbury will take a whirlwind tour of the history of technology, how we got to where we are, how the pace of change is increasing, and where we might be in years to come.
As well as being a student of all things tech, Jason also builds things, from hoverboards to robots to mind-reading devices and frequently illustrates his presentations with them, surprising and engaging audiences, as well making them think.
He combines a breathless passion for technology and the future with genuine insight and understanding of where the latest developments might come from and how they work, making him perfectly placed to speak at this year's technology themed conference.
In the heart of Aix-en-Provence, the Advantage Conference 2017 will convene to consider the powerful combination of smart technology and human service to enhance the world of travel.
The appointment of Jason Bradbury follows the release of the outlined programme, as well as the news Sir Chris Hoy MBE is the keynote speaker at the 2017 conference in May.
For all the latest conference news please visit advantageconference.co.uk or contact the events team at [email protected] or 020 7324 3945.